To our family and friends.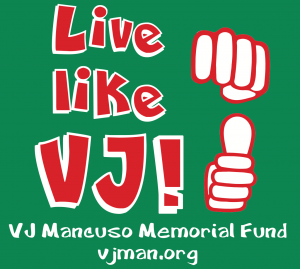 We have been so blessed that past few years with your support and hope that you can attend the 3rd Annual VJ Mancuso Memorial Trivia Night September 21st 2013.
For the Month of May's Agenda we are actively seeking items for the silent auction and for various raffle prizes which will be awarded throughout the evening.
We are happy to pickup any donations at your discretion.
Click on this link to download the official donation form 
Please feel free to contact me at the numbers below.
Thank you for your consideration in getting involved in this special event that is so close to our heart.
We look forward to keeping kids smiling everyday, the way VJ did!
Sincerely,
Jennifer Mancuso
VJ Mancuso Memorial Fund
1734 Clarkson Road #101
Chesterfield, MO 63017
Phone: 314.956.9556
Email: vjmancuso@gmail.com
Website: www.vjman.org 
2013 VJ Mancuso Memorial Fund Trivia Night Steering Committee
Jennifer & Vincent Mancuso, Stephanie & Scott Rhea, Ben Sandmel, Anna Clark, Angela Rollins