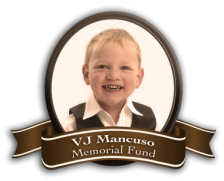 On behalf of the VJ Mancuso Memorial Fund, a non-profit organization, pending 501(3)(c) status, we would appreciate your consideration in becoming a Round Sponsor for the VJ Mancuso Trivia Night.
My husband and I created the Fund after our son, VJ passed away at the age of 47 months, due to a congenital heart defect at birth. We are dedicated to raising funds to provide needed resources for families, patients and nurses of St. Louis Children's Hospital, St. Ambrose Church & School and Temple Israel Early Childhood. One of our main goals is to supply the Rockwood Early Childhood Center, where VJ attended, with at least one iPad in each classroom including the therapy rooms. The Fund's long term plan is to assist local schools suffering from budget cuts by purchasing iPads to enhance early childhood learning for young children with or without special needs.
On September 21, 2013, we will be holding our third annual VJ Mancuso Memorial Fund Trivia Night at the JCC in Creve Coeur with Courtney Landrum from the Y98 FM Phillips and Co. Morning Show serving as host.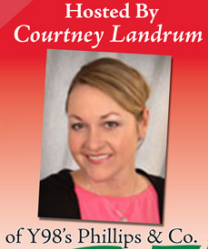 We are seeking community support to make this event bigger and better than ever – and we need your help. This is truly a grassroots effort, with our family and friends dedicating their time, energy and enthusiasm for our cause in honor of our Son.
In return for your generous round sponsorship of $250, you will receive:
A trivia table, for up to eight people
A commercial mention read prior to your specified round
A company logo will appear on screen and on handouts at each table
Your option of an advertising insert in our welcome packet, placed on all tables
A company logo will appear on auditorium sign-age
If you are unable to participate as a round sponsor, and would like to be involved, we are accepting donations for the silent auction and for various raffle prizes which will be awarded throughout the evening.
We are happy to pickup any donations at your discretion. Please feel free to contact me at the numbers below.
Thank you for your consideration in getting involved in this special event that is so close to our heart.
We look forward to keeping kids smiling everyday, the way VJ did!
Sincerely,
Jennifer Mancuso
VJ Mancuso Memorial Fund
1734 Clarkson Road #101
Chesterfield, MO 63017
Phone: 314.956.9556
Email: vjmancuso@gmail.com
Website: www.vjman.org 
2013 VJ Mancuso Memorial Fund Trivia Night Steering Committee
Jennifer & Vincent Mancuso, Stephanie & Scott Rhea, Ben Sandmel, Anna Clark, Angela Rollins
/wp-content/uploads/VJlogo-285x230.png
0
0
childrens_charity
/wp-content/uploads/VJlogo-285x230.png
childrens_charity
2013-03-14 19:01:06
2013-04-08 17:16:58
Become a Round Sponsor for the VJ Trivia Night 2013